News
AMAA
Now in its fourth year, the Audited Media Association of Australia's Media Trust Study is back to showcase what really keeps top media and marketing execs awake at night.
Now in its fourth year, the Audited Media Association of Australia's (AMAA) Media Trust report is back with findings from nearly 600 Australian top media agency and client-side marketing professionals.
The respondents, of which 42% of those that answered were Senior Execs including C-suite, GM or MD roles, all work in the digital realm and were questioned around levels of trust within digital channels and industry metrics.
"A more trusted environment is better for marketers, agencies and consumers which is why accountability and transparency is vital to the media and ad trading ecosystem," Josanne Ryan, CEO Audited Media Association of Australia, said. "While it's great to see some year-on-year improvements, there is clearly more work that needs to be done."
The AMAA has tracked several questions on digital over the last four years with feedback in 2019 showing clear trends raising several questions. The Media Trust Report shows that ad fraud and non-human traffic are still the biggest concern for both marketers (67%) and agencies (72%).
It also found that social media is the channel that rates as most in need of oversight to build trust which is perhaps unsurprising given the Australian Competition and Consumer Commission's (ACCC) investigation into the dominance of Facebook and Google in Australia.
Programmatic digital ad trading was second in line as a concern, but there is a shift with both marketers and agencies gaining some trust in the channel. Interestingly, agencies are twice as likely as marketers to indicate that programmatic needs more oversight to ensure best practice.
Extract of the top 4 categories from Pg 9 of the AMAA Media Trust Report 2019: Trust Matters.
We asked: Which, if any, advertising media below need more oversight to ensure adoption of best practices to build more industry trust?
| | | |
| --- | --- | --- |
| | Marketers | Media Agencies |
| Social Media | 65% | 60% |
| Programmatic Trading | 27% | 54% |
| Online Video / Streaming | 34% | 40% |
| Mobile | 34% | 34% |
"Programmatic is maturing and innovations such as ads.txt are working to build confidence, but as programmatic advances into above the line channels such as TV and out of home, there are concerns about more oversight being needed."
With regard to the industry audience metric providers, overall trust has risen slightly across all providers when compared to 2016, with Nielsen and OzTAM leading the pack. The top trio of factors that are viewed as building trust in audience metrics include transparency regarding data collection (71%); a layer of independent verification and audit (58%) and a robust and comprehensive methodology (55%).
It is worth noting that both UK Online Measurement (UKOM) and Broadcasters' Audience Research Board (BARB) metrics have data inputs audited by ABC UK. In Australia, the AMAA is engaged to audit some Enhanced Media Metrics Australia (emma) data inputs.
The study shows that the industry sees the need for compliance to media industry codes as important, with this tracking up. The rise is more so with marketers, tripling in the last four years from 17% to 46% of respondents agreeing that compliance to media industry codes is a top issue to tackle in the next 12 months.
Regarding the most important aspects of self-regulation, the support for compliance to be checked by an independent third party was also strong with 50% of senior/mid marketers and 56% of senior/mid agency execs desiring this.
"It begs the question as to why, when we know that compliance layers work to build trust and reduce risk, we shy away from incorporating this into the industry frameworks." Ryan questioned.
With the government's final response to the ACCC's Digital Platform Inquiry looming, never has there been a more pertinent time to discuss the hot topics of market trust and self-regulation.
Respondents were asked about the ACCC Digital Platforms Inquiry Preliminary Report and agreed with the need for greater oversight of Google and Facebook, privacy law changes and more transparency in how digital ads are traded.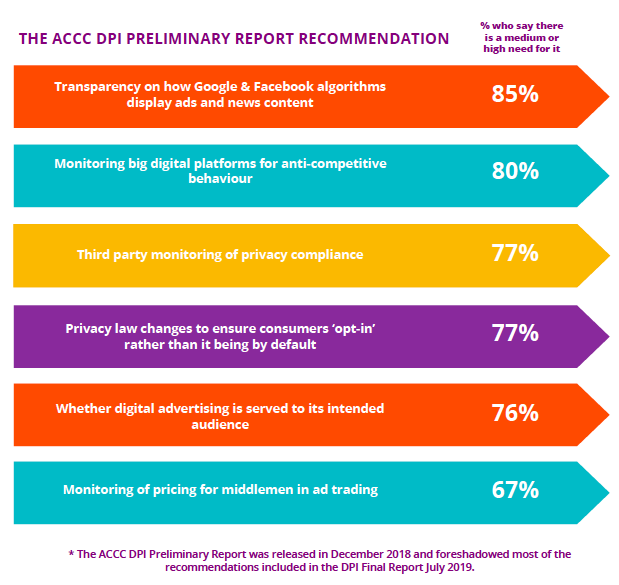 When asked 'What do you consider the key industry transparency issues?' respondents indicated: #1 Collection and use of consumer data; #2 Level of digital ad fraud; and #3 Programmatic ad tech charges.
Media Trust Report results were conducted via an online survey of 588 people with all data collected between 17 May - 9 June 2019. The majority of respondents comprised of an even mix of client-side marketers and agencies and data was analysed by third party research agency The Insights Grill.
You can download the full report here
Date: 10 Dec 2019
Next: You can include digital versions in your audit
Previous: AMAA announces AIMCo